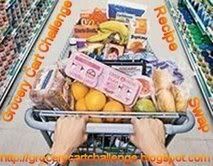 It's now the second week of recipe swapping over at Gayle's Grocery blog. I had a lot of fun looking through other people's posts last week so I've decided to participate again :)
I got this recipe a couple of years ago from a friend and I just love it.
Chinese Chicken Salad

2 Chicken breasts cooked & chopped
Head of cabbage chopped
1/2 cup each of toasted almonds or sesame seeds (I just use 1 cup of whatever nut I happen to have)
small bunch green onions chopped (optional)
1 package chicken Ramen noodles, crushed up
1/2 cup-1 cup dried cranberries (optional...but not really)

Dressing:
2 Tblsp. Sugar
3 Tblsp Vinegar
1/2 cup olive oil (or veg.)
1 tsp. salt
1 chicken packet from Ramen

Mix all of the ingredients in a large bowl. Mix up dressing and pour over the top. If the head of cabbage is really big I usually double the sauce.

Enjoy!

Now I'm off to read others.....